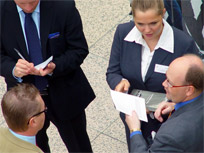 Community Partnership for Transition Services (CPTS)
Vision/Value Statement:  To build a community that takes into consideration the talents and contributions of ALL its members, including individuals who are in transition from prison & jail back to their community and families.  We aspire to join those in their life changing and defining TRANSITION as they integrate into society through a holistic and comprehensive set of services and support, which will allow them to build and lead more self-sufficient and productive lives. (William A. Ramos)
Purpose Driven Mission:  To translate our vision and values through a series of purpose driven community venues that support successful transition for adults who have earned their return back to the community and their families.
Join us monthly for the opportunity to network with state, federal, non-profit, faith-based, and other community members who are dedicated to the reentry process.
2nd Chance Employer Database Training
The 2nd Chance Employer Database is provided through a collaborative partnership between numerous agencies as a tool for community partners to assist those in transition from prison and jail back to their home communities.  Access to this information requires certification and training is offered periodically.
Please contact Joseph Garcia at JGarcia@sccd.ctc.edu
Federal Bureau of Prisons Events
The Federal Detention Center (FDC) in Seatac will be hosting their annual Mock Interview Job Fair, Resource Fair, and Health Fair.  The Education Department at the FDC provides these opportunities for their students to practice their interviewing skills with 2nd Chance employers, get connected with community partners prior to release, and assist with the reentry process.
Community Transition Solutions Event
Purpose: The Community Transition Solutions Event is committed to providing our mutual clients with a variety of services and opportunities to best assist their successful reintergration into the community.
The 2015 Community Transition Solutions Event will be held on September 18, 2015, at the New Holly campus.  Due to the expansion of resources, we will also utilize the Gathering Hall on the campus.  We would like to thank the planning committee for their dedication and hard work in providing this great resource to those we serve.
2016 Summer Institute Reentry Conference
University of Puget Sound, July 27 - 28, 2016
The annual conference offers an opportunity for reentry service providers, educators, faith-based and community organizations, Tribal Nations, and individuals affected by incarceration to network, share expertise, identify and refine best practices, and foster sustainable partnerships.